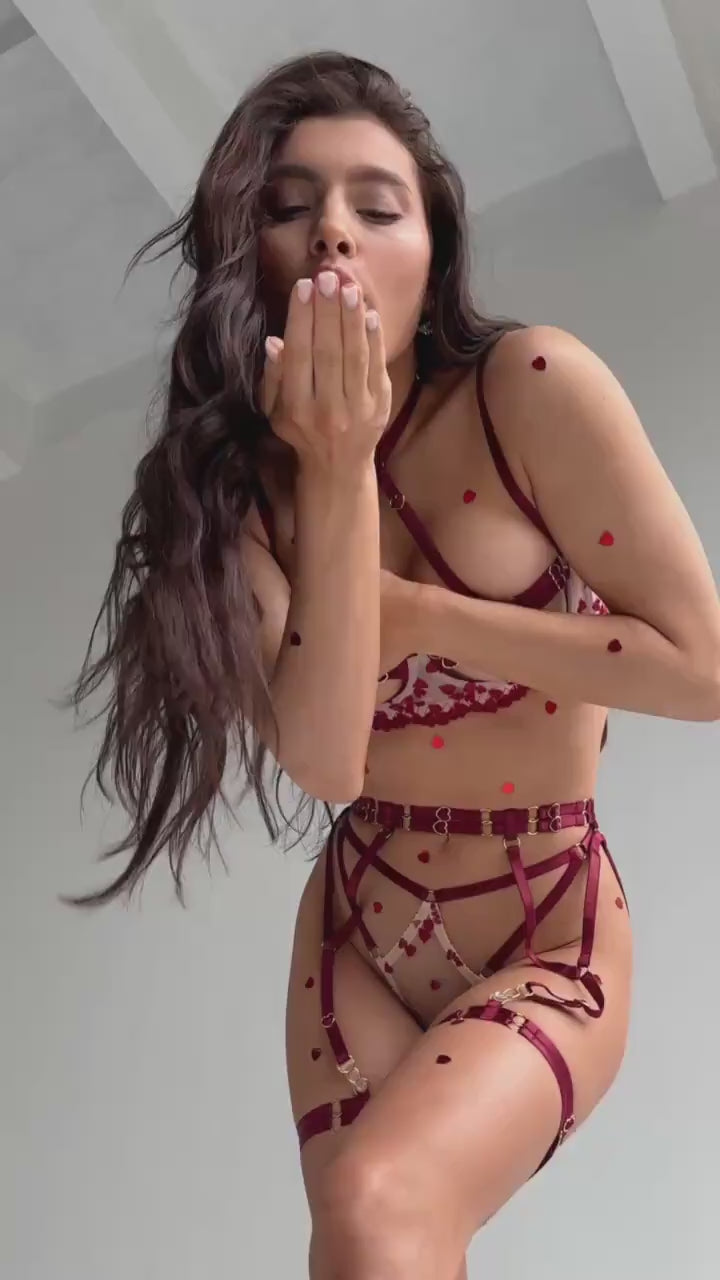 ENJOY A FREE GIFT FROM A SELECTION OF LINGERIE FROM 120€ PURCHASE!
---
Four-piece lingerie set with thigh loop - AURORA
---
Discovery of AURORA

Succumb to the charm of the AURORA set from NAKED Underwear, a true ode to audacity and elegance. This four-piece set designed for the modern, confident woman, brings out the best in femininity with its unique nude tulle design, adorned with burgundy lace hearts. The boldness of the straps which form a delicate bra and a sophisticated neckline, mixes with the sensuality of the panties with a subtly suggestive design.

NAKED quality

Designed to provide optimal comfort without compromising style, the AURORA set is the embodiment of our vision at NAKED Underwear: to create lingerie that combines innovation, elegance and sensuality. The soft tulle as a caress and the silver heart-shaped details give this set a superior quality and a careful finish.

A masterpiece to wear

The AURORA set is more than just a lingerie set. It is a true masterpiece that you are wearing. Every detail has been thought of to highlight you and make you shine. Bold straps that extend to form a thong create a look that is both flirty and comfortable, ideal for women who like to stand out.

Ready to wear the exceptional?

Don't wait any longer to treat yourself to the AURORA set. Click "Add to Cart" and start enjoying the NAKED Underwear experience. To preserve the beauty of your set, we recommend washing it by hand and drying it flat.

Testimonials

"Wearing the AURORA set is like feeling unique in every moment. The heart-shaped details and the shine of the straps make me feel confident and irresistible." - Jeanne D.

A gift for you

Each AURORA set comes in a stylish gift box, making every purchase a gift to you. With NAKED Underwear, you enjoy an unrivaled lingerie experience.
Black Friday Express: Your Orders Shipped in 24/48 hours!
Exchanges extended until December 31, 2023 for your Black Friday purchases.
BLACK FRIDAY UP TO 60% OFF
98%
of our customers say: NAKED Underwear, the undisputed ally of their self-confidence.
Let our lingerie guide you to a bold self-revelation
Discover yourself